How to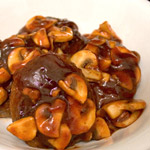 How to – Basics
These how-tos are the very basics for making bento. Some are just recipes, others are ways to prepare food specifically to be used in bento whether it's freezing veggies or adding all natural color to different foods!
How to – Decorations
These how-tos are some simple decorations you can add to any bento to make it look prettier!
How to – Characters
These are special how-tos to teach you how to make many different characters, from Domo-kun to Totoro!